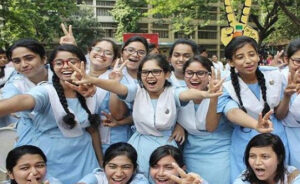 Moon Desk: This year`s Secondary School Certificate (SSC) and its equivalent examinations results will be published on today, November 28, 2022.
A notice issued by the Dhaka Education Board on Sunday (November 27, 2022) also said the results would be published at the educational institutions and online at the same time at 12:00pm.
The notice said the Result Sheet can be downloaded from the Dhaka Education Board`s website [www.dhakaeducationboard.gov.bd] by clicking the Result Corner and entering the educational institution`s EIIN.
The Result Sheet can also be downloaded from the www.educationboardresults.gov.bd by giving roll and registration numbers.
Examinees can also get results through SMS by typing SSC, first three letters of the board's name, roll and Year [SSC Dha 123456 2021] and sending this to 16222.
This year, 20,21,868 candidates have taken the SSC and equivalent examinations.
The theoretical part of the examinations was held between September 15 and October 3, and the practical part was held in October 10-18.
Like in the past year, this year the examinations were held on a short syllabus and in two hours instead of three.
This year the SSC and its equivalent examinations were scheduled to begin on June 19, and the Higher Secondary Certificate and its equivalent examinations were scheduled for August 22.
On June 17, the government postponed the examinations due to the worsening flood in the north and north-eastern regions of the country.