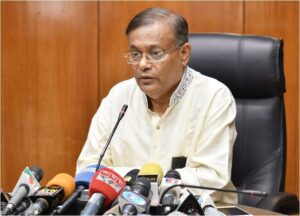 Moon Desk: Information and Broadcasting Minister Dr Hasan Mahmud on Moay said the ground can be an alternative to the field, not the street for a rally, but BNP is yearning for the street to hold their upcoming rally scheduled for December 10 as they want to accomplish their ill motive.
"Public rally is generally held on the ground, not on a busy street. It is not the responsible work of a political party to hold public meetings by obstructing vehicle movement and putting people in fear. They (BNP) don't like the Suhrawardy Udyan where all the gargantuan rallies were held in the history of Bangladesh," he said.
They (BNP) only like streets so that they can vandalise vehicles and set fire to different organisations like 2013, 2014 and 2015, said Hasan replying to a query from reporters at his Secretariat office in the capital.
He said trade fair ground in Purbachal or Biswa Ijtema ground at Tongi or the bank of the Buriganga River may be an alternative to Suhrawardy Udyan to hold their (BNP) rally.
The minister said none is being arrested due to political reasons. But, the countrymen think that the persons, who gave orders and provided money for arson attacks, should be brought to book, said Hasan, also Awami League joint general secretary.
He said the government conducts special raids every year so that Victory Day, Martyred Intellectuals Day and English New Year can be observed in smooth manners.
"And this is nothing new and not even for political reasons," he added.
He said BNP leaders and activists carried out arson attacks across the country in the name of politics in 2013, 2014 and 2015. It is a matter of legal issue if anyone of them is arrested, he added.
Earlier, the outgoing Japanese Ambassador to Bangladesh ITO Naoki paid a courtesy call on the minister at his Secretariat office.
After the meeting, Hasan said that he extended thanks to the ambassador for the role of Japan in the development of Bangladesh.
The minister also recalled the contribution of Japan to the independence movement of the country.
He said, "We are celebrating 50 years of Bangladesh-Japan diplomatic relations this year. Many projects in Japan are going on in Bangladesh while the Japanese Economic Zone will be inaugurated at Araihazar, Narayanganj tomorrow. Besides, Japan also expressed their interest to invest in Bangabandhu Shilpanagar in Mirsarai."
He said a discussion over political stability was also held in the meeting.
"Political stability is a prerequisite for development and it is needed to stop 'politics of denial' and politics of confrontation," the minister added.
Hasan also apprised the ambassador of the terrorist activities of the BNP.
Naoki said, "I've always got support in my work in Bangladesh. This year marks 50 years of Japan-Bangladesh diplomatic relations. On the occasion, we exhibited photographs of Bangabandhu's visit to Japan in October 1973, which was inaugurated by Information and Broadcasting Minister Dr Hasan Mahmud. We also discussed various issues of mutual cooperation between the two countries."