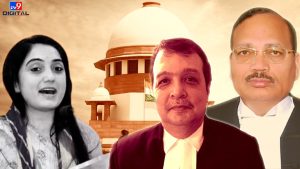 Muhammad Ullah: India is in a mess when its judiciary gives good speeches but bad judgments. Instead of punishing BJP's leader Nupur Sharma for her derogatory remarks on Prophet Muhammad (PBUH), Indian Supreme Court granted her protection from arrest in FIRs registered in connection with the case.
A bench of Justice Surya Kant and JB Pardiwala stating that it will correct to a small extent its earlier ruling on Sharma's petition seeking protection from arrest and clubbing of nine FIRs against her.
The court also issued notices to Indian government and states on her petition for clubbing of the FIRs. Multiple FIRs have been filed against Nupur Sharma for her derogatory remarks on Prophet Muhammad (PBUH) made on national television.
The same bench of the top court severely criticized Ms. Sharma for her controversial comments against the Prophet (PBUH), saying her "loose tongue" has "set the entire country on fire" and that she is "single-handedly responsible for what is happening in the country."
Sharma's comments had created an uproar in India with massive rallies taken out by Muslim groups, besides causing a diplomatic fallout with several Muslim nations registering their official protest.
Earlier, United States had also condemned Sharma's "offensive comments". It is a proven fact that BJP seeks to profit from inflaming communal passions. Biased verdict of Sharma is a slap on the face of Indian judiciary, which has hurt the sentiments of Muslims living in India and across the world.