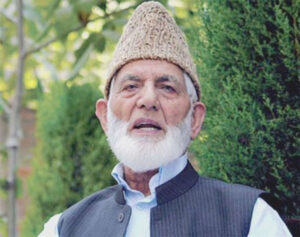 Qazi Mizan: Syed Ali Shah Geelani (29 September 1929 – 1 September 2021) was a Kashmiri pro-Pakistani leader. He was regarded as the father of the Kashmiri indigenous freedom movement.
Syed Ali Gilani's long and precarious journey for the legitimate cause of Kashmiris started well before his formal political career which started from the platform of Jammat-e-Islami (JeI) in 1952.
He soon rose to become district chief of Kupwara and Baramulla districts. He spent more than twelve years of his life in jail; he was first arrested in 1962 on the charges of "raising the Kashmir issue".
Gilani initially struggled for his cause through mainstream politics but later on realized that government of India had never been sincere in resolution of Kashmir issue. He staunchly opposed the enactment of Indian draconian law of Public Safety Act (PSA) and openly challenged then Chief Minister Sheikh Mohammad Abdullah when he introduced the stringent Public Safety Act in the region.
The act, termed a lawless by Amnesty International, was brought to be used against timber smugglers. However, it was later modified to imprison political voices. Under the law anyone could be imprisoned for up to two years without trial.
He played an active role in formulation of Muslim United Front (MUF) in 1987 ahead of provincial elections, all Muslim parties came under a single platform – MUF – against pro-India parties, including National Conference.
Only four candidates of the platform, including Gilani, however, managed to secure seats due to alleged rigging.  Gilani, along with three other winners, was jailed by Indian government. This was the watershed moment, which marked the beginning of an indigenous armed resistance against "Indian unlawful occupation of IIOJK".
The National Conference-Congress political alliance formed a government, which was dissolved in early 1990s as the armed rebellion broke out. Lawyers and activists were jailed, and political activity banned. Gilani and comrades resigned in protest. In 1992, foundation of All Parties Hurriyat (Freedom) Conference (APHC) was laid.
It was a platform of at least 30 pro-freedom parties to take forward Kashmir's fight for right to self-determination. The JeI was represented by Gilani. "Gilani's uncompromising stand boosted his popularity graph among the youth," a senior Kashmir-based journalist, told Anadolu Agency, "He (Gilani) would shoulder coffins of slain freedom fighters, and would in his public speeches eulogize the resistance movement."
In August 2004, Gilani along with Muhammad Ashraf Sehrai, launched Tehreek-e-Hurriyat (Movement of Freedom). Gilani emerged a prominent face when Kashmiris held mass civil uprisings post 2008.
In 2009, he launched "demilitarization movement" and in 2010, when three civilians were killed in a fake encounter along the LoC in Machil area of Kupwara district by Indian forces, a mass uprising was triggered.
Gilani was at the forefront. In 2016, after the killing of popular young freedom BurhanWani at the hands of Indian security forces.
Gilani, along with Mirwaiz Umar Farooq and Muhammad Yasin Malik organized protests against the brutal action of Indian Occupation Forces. After Indian government revoked Articles 370 and 35 A from its Constitution, scrapping the country's only Muslim-majority state with its autonomy, Gilani remained consistent with the struggle prior to revocation of special status. Syed Ali Gilani was remained house arrested after 5 Aug 2019 till his death.
Indian government fearful of his stature denied proper burial of great Kashmiri leader and was internationally condemned for this brutal and inhuman act. Gilani has authored at least 30 books including his autobiography 'WularKinaray or on the banks of Wular lake.