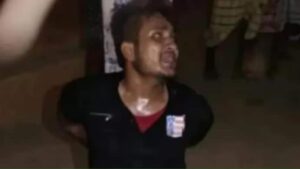 Moon Desk: An Indian court sentenced 10 men to 10 years in jail for the lynching of a Muslim man, who died after being tortured and forced to chant Hindu slogans.
Tabrez Ansari was tied to a pole and brutally tortured by a mob for nearly 12 hours accusing him of bike theft in 2019.
A video of the incident that went viral on social media showed the 24-year-old being forced to chant "Jai Sri Ram" — meaning "hail Lord Ram" — a slogan widely used by Hindu hardliners, in Jharkhand's Saraikela Kharsawan district.
Police had later detained Ansari for theft while he was in critical condition, and took him to hospital days after, where he died while in custody. Following a public outcry, police arrested 12 Hindu men, two of whom were later acquitted due to lack of evidence. The remaining 10 were convicted last week of culpable homicide not amounting to murder, and each handed 10-year prison sentences on Wednesday.
Ansari's wife, Shaista Parveen, who had accused police of aiding in the murder of her husband, said she will appeal the sentence to increase it.
"I respect the court order, but I am not fully satisfied with it. We will approach higher courts for justice," she told AFP.
Modi's Hindu nationalist government has been accused of turning a blind eye to a rising number of vigilante attacks on minority Muslims.Rights groups say Hindu mobs have been emboldened under Modi's Bharatiya Janata Party, which came to power in 2014.