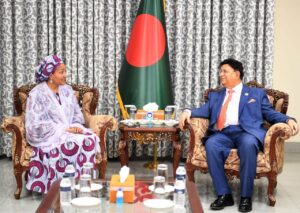 MM Rahmatullah: Speakers at a seminar on Saturday laid emphasis on taking concrete actions to address the challenges related to climate change and accelerate efforts to achieve Sustainable Development Goals (SDGs). They called for international cooperation for an increased financing, transfer of technology and delivering commitment on $100 billion funds. The Ministry of Foreign Affairs organised the seminar titled "Road to Sustainable Development Goals Summit 2023" at Foreign Service Academy as the UN is set to hold the SDG summit in September this year.
Foreign minster AK Abdul Momen spoke as the chief guest while UN deputy secretary general Amina J Mohammed joined as special guest. The deputy secretary general made an urgent call for "global re-commitment" to the SDGs, the Paris Agreement and international solidarity for increased financing, technology exchange and a just transition to renewable energy.
Minister Momen said every year 660,000 Bangladeshis are being displaced and losing jobs due to salinity intrusion and water logging. "They are facing such realities because of the faults of the rich countries that emit huge greenhouse gas and cause global warming," he said. Bangladesh's contribution to carbon emission is only 0.47 per cent, lowest in the world. Therefore, Bangladesh, like other affected countries, want the rich countries to share the burden.
As per the goal 17 of the SDGs, the developed countries will provide finance and technology for achieving the SDGs. The developed nations pledge providing 0.7 per cent of their GDP to the climate affected countries, but only six countries kept their promise.
Without finance and technology, SDGs cannot be achieved at all, Momen said. Amina said conflicts in different parts of the world and refugee crises have caused a huge blow to the SDGs. Bangladesh has set good examples by improving food system and technological development for food security, but climate change and lack of international support remain huge challenges. She emphasised on investing heavily on quality education, health transition to green technology from fossil fuels.
Foreign secretary Masud Bin Momen hoped that the deputy secretary-general will take forward the combined messages from the seminar as part of her advocacy work around the world.
"We count on you to keep mobilising international public opinion in favour of unlocking the resources and technologies needed for achieving the SDGs," he said. The Foreign Secretary said countries like Bangladesh have demonstrated that they can deliver on their commitments, and can go a long way further given an enabling environment for international cooperation and dialogue. Principal coordinator of SDG Affairs at the prime minister's Office, Akhter Hossain, Aroma Dutta MP, Bangladesh Open University Pro-Vice Chancellor Prof Mahbuba Nasreen, Unilever Bangladesh Director (Corporate Affairs, Partnerships and Communications) Shamima Akhter and ActionAid Bangladesh Country Director Farah Kabir also spoke. Amina J Mohammed arrived in Dhaka on Saturday and will have busy time witnessing Bangladesh's progress in achieving SDGs; engaging in discussions to advance its implementation at this crucial mid-way point and to galvanize support for the 2023 SDG Summit.