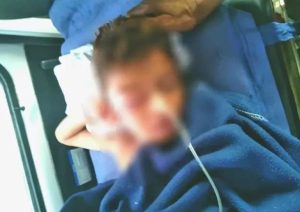 Moon Desk: Nine-year-old third grader was assaulted by his upper-caste Hindu teacher in Rajasthan state.
The child indra meghwal used to study in the third grade at saraswati vidya mandir in surana village jalore of rajasthan district photo courtesy bbc.
The child, Indra Meghwal, used to study in the third grade at Saraswati Vidya Mandir in Surana village, Jalore of Rajasthan district.
A nine-year-old student belonging to India's marginalised Dalit community was beaten to death allegedly by his upper-caste Hindu teacher for touching his water pot, Indian media reported.
The child, identified as Indra Meghwal, used to study in the third grade at Saraswati Vidya Mandir in Surana village, Jalore of Rajasthan district. The incident occurred on July 20 at Saraswati Vidya Mandir – a private school in the village.
40-year-old teacher Chail Singh who allegedly beat the boy has been arrested and charged with murder and under sections of the Scheduled Caste and Scheduled Tribe (Prevention of Atrocities) Act.
Police said the reason for beating up the nine-year-old that he touched a drinking water pot is being investigated. However, upper-caste Hindus usually escape justice as survivors bow to pressure to drop their cases.
"He slapped the boy so hard that he fell down," Kheemaram Meghwal, the child's uncle, told .
As news of the child's death spread, police suspended internet services in the area fearing unrest over the boy's death.
The child's family, meanwhile, accused the police of trying to cover up. They claim that the police tried to take away Kheemaram's phone and the child's medical reports when they were bringing back the child's body from a hospital in Ahmedabad.
Kheemaram also claimed that Chail Singh offered to pay Rs0.25 million to the family for the child's treatment as hush money.
Hindus, who account for about four-fifths of India's population of 1.3 billion, were traditionally grouped into thousands of castes, whose membership was determined by birth.
Dalits have historically faced various forms of discrimination including segregation and social boycott, in addition to violence.
They have been barred from physical or social contact, and in some cases, even having their shadows touch those belonging to people from castes higher in the hierarchy.
The rigid Hindu caste system also forces some Dalit castes into occupations which are considered unclean by the so-called higher castes, such as cleaning human excreta and disposing of dead people and animals.