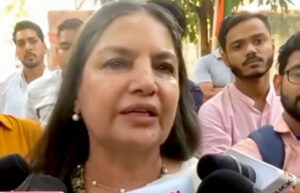 Moon Desk: Eleven people were sentenced to life imprisonment for the gang-rape of pregnant Bilquis Banu and the murder of seven members of her family in Gujarat, India. But these 11 people were released on the occasion of India's 76th Independence Day. Those 11 who raped Bilkis Banu and killed his family are now free. There has been a stir in various circles about this. But it did not react as it should have. Indian actress Shabana Azmi raised questions about these issues.
In an interview given to the Indian media, Shabana said, is there no one on the side of Bilkis Banu because she is a Muslim? No one moved for her? Tell me what to think more than this? Now there is only Hindu-Muslim debate in the country, I think, by doing such an act, the aim is to create more communal tension in the country. Use that score to vote. I don't think anything more than that. It has been said on behalf of those 11 people that they are Brahmins.
She said, 11 people were declared criminals and sentenced by the court. Even then, someone says, they did not commit a crime! How can the Gujarat government do this without any directive from the centre? Why is the Human Rights Commission silent from the Women's Commission? Why are women leaders of BJP silent? Is it for the party line? Something called humanity is no longer alive? What kind of society are you living in? Shabana Azmi said, I thought there would be a huge reaction across the country after the release of those prisoners. I waited one day, two days, and three days. I didn't see anything like that in the media or anywhere else. One day I was having a discussion with some people. One said, they have been in jail for a long time. What a loss if they are released now!
I was shocked to hear them. I think they have no idea what happened to Bilkis Banu. Those 11 people were not only released. They were felicitated after being released from jail. Sweets have been distributed. Think about what message we are giving to the society? What is the message to the girls of the country? The day they were released, the Indian government was talking about women power. I can't imagine that the entire country took to the streets in the Nirbhaya case. Why not in the case of Bilkis Banu?
Shabana says, I have nothing to say. i am stunned Even after such a great tragedy, Bilkis did not lose courage. Criminals were punished. Now after the release of those inmates, Bilkis' husband says it happened when he was trying to put his life back together. The lawyer says, how much will you fight alone? Shouldn't we come forward after all this? Couldn't a message of security be given to women in India who are threatened with rape on a daily basis? How do I stand in front of Bilkis? What happened to the country's female parliamentarians? How they all are silent?