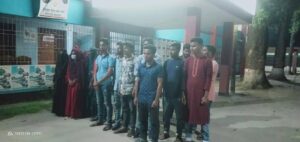 Shafiqul Bhuiyan, From Jamalpur: Half a hundred students of Shimultala Technical and BM College, Islampur, Jamalpur could not appear for the HSC (BM branch) examination due to not being given admit card by the college. They were turned away at the last minute when they went to the college to collect their admit cards last Saturday (November 5) morning. Hoping for a remedy, the students took a stand at the Upazila Executive Officer's office. As no solution was found, the students filed a complaint against college principal Anwarul Islam, librarian Morsheda Akhtar, office assistant Feroz Ahmed at Islampur police station. In this incident, those 50 students could not take the exam due to lack of admit cards.
It is known that the assistant librarian of Islampur Shimultala Technical and BM College of Upazila Morsheda Akhtar collected from them in the name of form philap at the rate of 4 to 5 thousand taka per head. As the money was not submitted to Morsheda Akhtar College Recruitment Authority, the principal did not fill their form. So the admit cards of those 50 students did not come to the college.
When asked, the victim candidate Zahidul Islam said, "I gave Tk 4,000 to the assistant librarian of the college, Morsheda Akhtar, for the form fill-up. But the college authorities did not fill my form because he embezzled money."
Another candidate Isma Akhtar said, "Morsheda Akhtar madam took 1000 rupees from me for the admission card. Earlier took Rs 4,000 for form fillup. But he didn't even fill my form."
Last Saturday (November 5) evening, the victims thought that their participation in the examination was uncertain and rushed to the Upazila Nirbahi Officer in the hope of redress. After not getting the UNO, the candidates reported the matter to the Islampur police station.
In this regard, Shimultala Technical and BM College Principal Anwarul Islam said that the problem arose due to students not coming to the college regularly, before this happened last year, we went to the board in Dhaka and resolved it, the college administration will take action against the accused assistant librarian Morsheda Akhtar.
He also said, "Next year, I will make the form filling for those students without taking any fee".
Morsheda Akhtar, assistant librarian of the college, could not be contacted as she was in hiding.
College office assistant Firoz Ahmed said, "This time I have given admit cards to 124 candidates. So far, 14 candidates have complained to me due to non-filing of forms."
In this regard, Islampur Police Inspector Muhammad Majeedur Rahman's phone was called multiple times, so it was not possible to take his statement as he did not answer the phone.