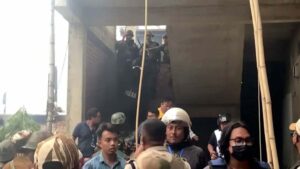 Moon Desk: Imphal, Three journalists covering the violence in Imphal, the capital of the Indian disturbed state of Manipur, were assaulted by the Indian Army personnel.
The journalists – Soram Inaoba and Nongthombam Johnson from the channel Mami TV and Brahmacharimayum Dayananda from the news agency ANI – were assaulted with batons by the army personnel while they were recording footage of a burning building from a construction site in New Checkon area of Imphal, reported the Imphal Free Press.
On Monday, fresh violence was reported in Manipur after a mob had torched homes in the New Checkon market of Imphal.
Tensions in the northeastern state were first reported on May 3 after thousands participated in a protest march organised by the All Tribal Students' Union of Manipur to oppose the demand of the majority Meitei community to be included in the Scheduled Tribe category. The protestors included the Kukis, one of the larger tribal communities in Manipur.
The All Manipur Working Journalists' Union, Editors' Guild Manipur and Manipur Hill Journalists' Union submitted a memorandum to the Chief Minister, N Biren Singh, demanding the suspension of the army personnel who assaulted the journalists, the Sangai Express reported. The journalists' associations said, this is a gross violation of the right of journalists to cover an incident as they were assaulted even after they were identified [as mediapersons] on duty.
Meanwhile, in Indian city of Amritsar, the rural police have booked one Ranjit Singh and some of his unknown accomplices on charges of attempt to murder and hurting religious sentiments following a clash between them and members of the local Christian community at Rajewal village, on the Jandiala Guru-Tarn Taran road in Punjab state.
Johnson, the president of the Sukhpal Rana Ministries (church) at Rajewal village, told the police that during a morning prayer on Sunday, several persons clad in the Nihang attire had arrived at the church. Led by Ranjit Singh, the Nihangs showed disrespect to the holy Christian scriptures. Moreover, the group of Nihangs assaulted some devotees and vandalised several vehicles parked in the area.