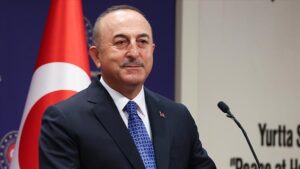 Moon Desk: Turkish Foreign Minister Mevlut Cavusoglu on Thursday congratulated Qin Gang on assuming charge as the foreign minister of China.
According to a statement by the Turkish Foreign Ministry, Cavusoglu and Qin held a phone conversation in which they also discussed bilateral political and economic cooperation, and the relations of the two countries in the multilateral platforms.
"Minister Cavusoglu also emphasized to Minister Qin Gang our expectations and sensitivities regarding the Uyghur Turks in the Xinjiang Uyghur Autonomous Region," the statement read.​​​​​​​