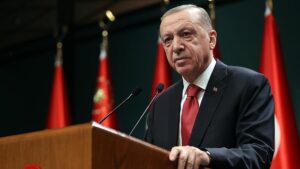 Moon Desk: Türkiye's President Recep Tayyip Erdogan congratulated Azerbaijan on the second anniversary of its 2020 victory that ended Armenia's occupation in the Karabakh region.
"I sincerely congratulate Azerbaijan on its Victory Day, which marks the liberation of Karabakh after an epic struggle for 44 days," Erdogan said on Twitter.
Karabakh belongs to Azerbaijan and will always remain part of the Southern Caucasus country, he said.
Azerbaijan celebrates Victory Day on Nov. 8, marking the liberation of Shusha city on the same day in 2020.
On Nov. 10, 2020, Baku and Yerevan signed a Russia-brokered agreement to end the fighting in the region and work toward a comprehensive resolution.
During the 44-day conflict with Armenian forces, Azerbaijan liberated several cities and nearly 300 settlements and villages.
The cease-fire is seen as a victory for Azerbaijan and a defeat for Armenia, whose armed forces withdrew in line with the agreement.