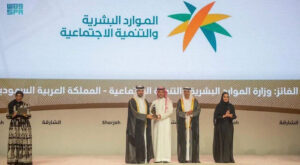 SPA, SHARJAH: Saudi Arabia's Ministry of Human Resources and Social Development won two accolades at the 9th Sharjah Government Communication Awards in the UAE.
The ministry scooped awards in the categories for best systems in government communication in the Arab world, and best government communication initiative to empower women globally.
Fifty-three candidates were shortlisted in 19 award classes, with the Saudi ministry recognized for the methodology used in the implementation of its projects, the impact and results achieved, the effective use of technology and media to reach target audiences, and its innovative and proactive visions.
The ministry's assistant minister for shared services, Mohammed bin Nasser Al-Jasser, said the awards success was down to the hard work of employees.
He added that the ministry sought to create an effective communication media system capable of keeping pace with the rapid changes taking place in the sectors it supervised while responding to the digital transformation that had seen a transformation in government media over recent years.