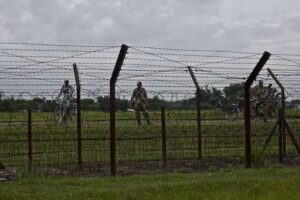 Md Jubair: Two Bangladeshi citizens were gunned down on Wednesday allegedly by the Indian Border Security Force (BSF) along the northern Bangladesh border, officials said.
Both the men, aged between 28 and 30, were shot dead in the border district Lalmonirhat as they, along with a group of cattle smugglers, allegedly tried to cross the border from the Indian side to Bangladesh illegally, according to the officials.
Border Guard Bangladesh's Director (operation) Lt. Col. Faizur Rahman told "We have heard of the incident (death of two Bangladeshi citizens) from local officials. We will take necessary steps after collecting details."
The incident took place at the Mahishtuli border area of the district. Bodies of the victims were sent to a local hospital for autopsy and would be handed over to their families, said local police.
The two South Asian countries share a 4,096-kilometer (2,545-mile) international border, the fifth-longest land border in the world.
After some recent incidents of border killing, Bangladesh Foreign Minister Abdul Momen said in Dhaka that it is a matter of shame that India could not stop its border forces from using lethal weapons along the border.
Ain-o-Salish Kendra (ASK), a local non-government legal aid and human rights organization, said at least eight Bangladeshis were shot dead, and seven others were injured by the BSF in the last eight months.
The BSF was accused of violations despite repeated commitments to not using lethal weapons along the border.
Odhikar, a local human rights organization in Bangladesh, claimed in its latest report that the Indian forces have killed over 1,200 Bangladeshis along the border over the last two decades.