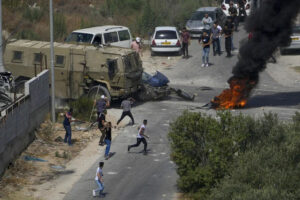 Palestinians hurl rocks at Israeli military vehicles during an army operation in the West Bank village of Rujib earlier this week.
AFP, RAMALLAH: Two Palestinians were killed early Thursday in separate clashes with the Israeli army in the occupied West Bank, the Palestinian health ministry said.
The ministry said in a statement that Samer Khaled, 25, from Al-Ain camp in Nablus, suffered a fatal gunshot wound to the neck, and Yazan Afana, 26, from Qalandia camp outside Jerusalem, died after being shot in the heart.
At least 88 Palestinians have been killed in the West Bank this year as Israeli forces have carried out nightly raids in cities, towns and villages, making it the deadliest in the occupied territory since 2016.
The military says the vast majority were militants or stone-throwers who endangered the soldiers. The tally, from the Palestinian Health Ministry, includes Palestinians who carried out deadly attacks inside Israel.