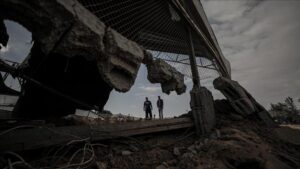 MOON Desk: The UN human rights chief on Friday urged an end to the illogical escalation in Palestine and Israel which is claiming human lives.
"Rather than doubling down on failed approaches of violence and coercion that have singularly failed in the past, I urge everyone involved to step out of the illogic of escalation that has only ended in dead bodies, shattered lives, and utter despair," said Volker Turk, the UN high commissioner for human rights.
He raised fears that recent measures taken by the Israeli government are only fueling further violations and abuses of human rights law.
"Last year saw record numbers of Palestinians killed in the occupied West Bank, including East Jerusalem — and the highest number of fatalities of Israelis inside Israel and in the occupied West Bank in many years," said Turk.
He said that this year there had been more bloodshed and destruction, with the situation continuing to grow.
In 2022, the UN Human Rights Office documented 151 killings of Palestinians by Israeli security forces in the occupied West Bank, including East Jerusalem, plus one boy who was killed by either the Israeli security forces or a settler.
Concerns over excessive force: Turk said that there are severe concerns about the excessive use of force and arbitrary killings by security forces.
So far this year, 32 Palestinians have already been killed in the occupied West Bank by Israeli security forces, with two more killed by settlers.
In 2022, 24 Israelis were killed inside Israel and in the occupied West Bank, including East Jerusalem, by Palestinians, and seven more have been killed so far this year.
"Israeli authorities on 29 January announced measures to seal off immediately family homes of those suspected of having perpetrated attacks on 27 and 28 January in occupied East Jerusalem, including an attack in a settlement near a synagogue," said Turk.
More than 40 people, including family members, were arrested, purportedly concerning the attacks.
He said collective punishment measures, including punitive forced evictions and house demolitions, are prohibited under international humanitarian law and are incompatible with international human rights law provisions.
"Plans by the Government of Israel to expedite and expand the licensing of firearms, with the stated intention of 'adding thousands of (Israeli) civilians carrying firearms' – coupled with hateful rhetoric – can only lead to further violence and bloodshed," said Turk.
The human rights chief said his office knows from experience that the proliferation of firearms will increase the risks of killings and injuries of Israelis and Palestinians.
Over the past week, there have already been several reports of violence between Israeli settlers and Palestinians, particularly in the occupied West Bank.
"Rather than fueling a worsening spiral of violence, I urge all those holding public office or other positions of authority – indeed everyone – to stop using language that incites hatred of 'the other,'" Turk said.