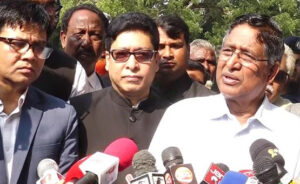 Moon Desk : Criticising Japanese Ambassador to Bangladesh Ito Naoki's recent remarks over general election in Bangladesh, Agriculture Minister M Abdur Razzaque has said diplomats stationed in Bangladesh will not be allowed to make any kinds of unexpected remark over internal affairs of the country.
"Interference of other country on election will not be allowed. They (diplomats who made remarks on election issue) will be summoned and warned quickly," said the minister after visiting over all activities at Mujibnagar Liberation War Memorial center in Mujibnagar upazila of Meherpur district on Wednesday.
Earlier, on Monday, Ambassador to Bangladesh Ito Naoki at a programme said, "I have never heard of the allegation of ballot box stuffing anywhere in the world as surfaced against police in Bangladesh in the last general elections."
"Ballot box stuffing should never be repeated," the ambassador added.
Bangladesh is a sovereign state, said the Agriculture Minister adding that "The country achieved its independence through a bloody war. There is no scope of compromise regarding the dignity of the country."
About holding general election, he said, "Article 126 of the Constitution clearly mentions that Election Commission will conduct elections of the country. And, district commissioners and superintendents of police will provide assistance to them to hold a fair and free election."
Abdur Razzaque said the Prime Minister and Cabinet have given all the instructions in this regard.
State Minister for Public Administration Farhad Hossain and Meherpur-2 seat MP Sahiduzzaman Khokon were present at that time.