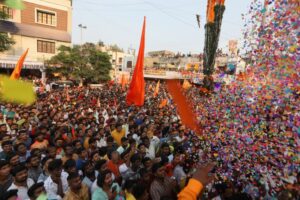 Moon Desk: An independent commission in the United States has, for the fourth year in a row, recommended that India's government, led by Prime Minister Narendra Modi, be added to a religious freedom blacklist, saying that conditions in the country for religious minorities "continued to worsen" throughout 2022.
In its annual report on Monday, the United States Commission on International Religious Freedom (USCIRF) again called on the US Department of State to designate India as a "country of particular concern".
The independent panel has made appeals for the designation since 2020. The label accuses a government of "systematic, ongoing [and] egregious violations" of religious freedom and opens the door to economic sanctions.
The body said that the Indian government "at the national, state and local levels promoted and enforced religiously discriminatory policies" in 2022. Those included "laws targeting religious conversion, interfaith relationships, the wearing of hijabs and cow slaughter, which negatively impact Muslims, Christians, Sikhs, Dalits and Adivasis (indigenous peoples and scheduled tribes)".
The report noted that about 14 percent of India's population of 1.4 billion is Muslim, about 2 percent is Christian, and 1.7 percent is Sikh. Nearly 80 percent of the country is Hindu.
The panel further asserts that the Indian government, led by Modi's Bharatiya Janata Party (BJP), "continued to suppress critical voices — particularly religious minorities and those advocating on their behalf".