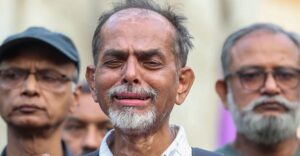 Staff Correspondent: BUET student Fardin Noor Parash's father Kazi Noor Uddin said he cannot accept in any way that his son had committed suicide.
Describing his son as a 'fighter,' he said Fardin didn't commit suicide. "What the RAB and DB saying are completely false and fabricated," he said.
In an instant reaction to the mass media on Wednesday night, he said Fardin had seen many ups and downs in his family and "managed every situation."
"He (Fardin) was a fighter. A boy like him could not do anything else like committing suicide," he said.
Earlier, the Detective Branch (DB) of police and the Rapid Action Battalion (RAB) at seperate media briefings on Wednesday evening said Fardin took his own life jumping into the Shitalakhya river being frustrated due to bad results, and lack of money to join international debate competition.
Harun-ar-Rashid, chief of the Detective Branch, said Fardin appeared to be mentally disturbed due to "bad results" and "a lack of money" to travel to Spain where he was supposed to contest in an international debate competition.
"He did not know how to swim. From all of these, it appeared to us that it is a case of suicide."
Fardin left home in Demra's Konapara for a BUET hall of residence on Nov 4, saying he would study with his friends for an exam the following day.
But he did not appear for the exam, prompting his friends to inform the family of the development. The family then filed a general diary with the police in Rampura, where he was seen for the last time.
Fardin's female friend Amatullah Bushra, a private university student, said he had dropped her there at night.
Police arrested her after Fardin's family filed a murder case following the recovery of his body from the river three days later.
The forensic doctor, who conducted the autopsy, said Fardin was murdered the night he had gone missing. He was also tortured before being killed, the doctor said.
The Detective Branch was given the charge of investigating the case, while the RAB is conducting a shadow investigation.
Citing CCTV footage and mobile phone location data, the investigators had earlier said Fardin might have been killed by drug peddlers at Chanpara in Narayanganj's Rupganj after he travelled to several other places.
His family and friends dismissed the claim, saying Fardin had no reason to travel to the drug peddling hotspot as he had a test the next day and he was not a smoker, let alone drug abuser.