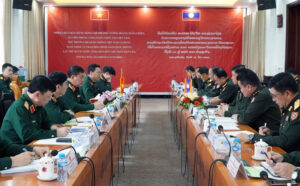 Moon Desk: The Vietnamese and Lao defence ministries held the third deputy ministerial-level defence policy dialogue in the Lao northern province of Houaphane on March 23.
The Vietnamese delegation was led by Deputy Defence Minister Sen. Lieut. Gen. Hoàng Xuân Chiến while the Lao delegation was headed by Deputy Defence Minister Lieut. Gen. Vongkham Phommakone.
They shared the view that ASEAN-led mechanisms continued playing a central role in the region, promoting diplomacy and cooperation among member countries and with external partners, for the sake of regional peace and stability.
Stressing that the South China Sea (known in Việt Nam as the East Sea) is still an area that holds uncertainties, they said maintaining an environment of peace, stability, cooperation and development in the East Sea was a crucial issue in the region and the world, not only for coastal but also for landlocked countries.
About bilateral defence cooperation, they expressed their delight that their defence cooperation mechanisms had been resumed since COVID-19 was under control in each country. Military Zones and Border Guard Command of Việt Nam worked closely with their Lao counterparts to hold various cooperation activities, such as exchanging information, promoting the efficiency of exchange and twinning models, fighting crimes and organising border friendship exchanges, contributing to Việt Nam-Laos borderline of peace, friendship, cooperation and development.
This year, they agreed to bolster coordination between border guards through diverse and practical forms, accelerate the signing of a Memorandum of Understanding on border guard cooperation between the two ministries, raise awareness of officers, soldiers, and people of both countries about the great friendship, special solidarity and comprehensive cooperation between the two Parties, States, armies and peoples.
They will continue attaching importance to personnel training which is an important strategic area for the relationship between the two countries' armies, hold the defence friendship exchange at the ministerial level between Việt Nam, Laos and Cambodia, the annual meeting of the three defence ministers and a joint exercise later this year.