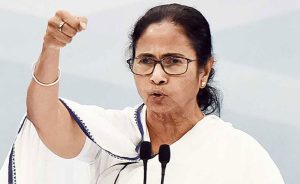 Moon Desk: West Bengal Chief Minister Mamata Banerjee made a speech at TMC's annual rally held in the memory of 13 youth Congress workers killed in Police firing in Kolkata on 21 July 1993.
She said, "We need a Prime Minister of the poor people, not the rich. Break out of BJP's prison and bring in a people's government. Your vote in 2024 is not for election but for rejection." She added, "I am sure BJP will not get the single (largest) majority in the next election.
Will you come with me to Delhi?
Will you see the country with me?
Will you fear the CBI and ED?" She highlighted that TMC has to win not only all the 42 Lok Sabha seats in Bengal but seats in other states such as Meghalaya, Goa, Tripura and Uttar Pradesh.
Banerjee is trying to bring regional forces on a common anti-BJP platform, TMC will support its allies in other states.
Banerjee's address also mentioned 5 % GST imposed on packaged food items such as puffed rice or muri. BJP is "dislodging" elected governments in several states as they have done it in Maharashtra.
Now, they are eyeing Chhattisgarh and Bengal. "But the Royal Bengal tiger is too big for BJP as people of Bengal will never surrender.
Our government provides free social welfare schemes and medical treatment. Bengal's farmers have maximum income in the country, according to the Centre's own records.
She quipped, "They (BJP) are doing away with the old Parliament as well. Those who did not even fight for our freedom (from British rule) are talking of creating history."
Referring to Droupadi Murmu Banerjee said: "They play Hindu, Muslim and tribal cards. We appealed to the Centre to give recognition to Sarna but they did nothing."