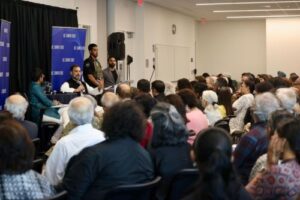 Moon Desk: Former Congress President Rahul Gandhi, who is on a six-day visit to the US, said "what is happening to Muslims in India today, happened to Dalits in the 1980s" and it has "to be fought with affection".
"It is being felt by the Muslims most directly because it is done most directly to them. But in fact, it is done to all communities. The way you (Muslims) are feeling attacked, I can guarantee Sikhs, Christians, Dalits, and tribals are feeling the same. You can't cut hatred with hatred., but only with love and affection," Gandhi said.
"Also, this is a periodical thing. What is happening to Muslims in India today happened to Dalits in the 1980s. If you went to UP in the 1980s, this was happening with Dalits…We have to challenge it, fight it and do it with love and affection and not with hatred and we will do that," he added.
Rahul Gandhi said, "I think if you sat Modi ji down next to God, he would start explaining to God how the universe works. And God would get confused about what I have created".The former Wayanad Lok Sabha MP further said that India is being run by a group of people who are "absolutely convinced" and have "disease" that they know everything.
Taking a jibe at PM Modi, Rahul Gandhi said that some groups in India have the "disease" of being under the impression that they know everything.The Congress leader said this group of people believes they can explain science to scientists, history to historians, and warfare to the Army while adding that mediocrity is at the heart of it all and this group of people does not actually understand anything.
The source said that the former Wayanad Lok Sabha MP will attend several programmes in Washington D.C. that includes his speech at the National Press Club on the future of Indian democracy, freedom of speech, and sustainable and inclusive economic growth.In Washington D.C., Rahul will also meet lawmakers and think tanks and also attend a dinner hosted by Indian-American entrepreneur Frank Islam and top business leaders, Senators and Congressmen.
Indian Overseas Congress Secretary Virendra Vashistha told media over the phone, "Rahul Gandhi has been raising the issue of India in the US. The Prime Minister has done 101 episodes of his 'Mann Ki Baat', whereas Rahul Gandhi has been doing 'Jan ki baat' and he listens to them in India and also in the US and talks to them about India wherever he goes."