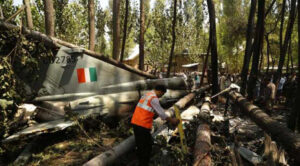 Qazi Mizan: Every year Indian Air Force Day being observed in October so what about India's Aircrafts MiG-21? The MiG-21 has been dubbed grim nicknames, such as widow-maker, owing to numerous crashes since its induction into the Indian Air Force.
Over 400 MiG-21 aircraft of the Indian Air Force have crashed in the last 60 years, claiming the lives of over 200 pilots and 60 civilians. Over 60 per cent of them have been built in India by Hindustan Aeronautics Limited (HAL).
However, half of the Made-in-India MiG-21s have crashed. In 2000, Indian MiG-21s were upgraded with new censors and weapons. It was that modified MiG-21, for which Wing Commander Abhinandan Varthaman was shot down by a Pakistani fighter in 2019.
There have been six MiG-21 Bison crashes in the last 20 months, with five crashes in 2021 and one in 2022.
Numerous crashes in the past few decades have led to the planes being dubbed "flying coffins" because of their poor safety record.
According to the database of Bharat-Rakshak.com, between 2016 and 2021, there had been 57 aviation accidents.
"The Hindustan Times" had revealed that some 2,173 people have been killed in these air-related tragedies in more than seven decades.
Former Air Force Chief, BS Dhanoa, who himself was a MiG 21 pilot, says, "Do you see a 1963 car on the streets?"
MP from Uttar Pradesh's Pilibhit said, "When will this 'flying coffin' be removed from our fleet? Parliament of the country has to think; will we allow our children to fly this plane?"
In 2012, then defence minister A K Antony had informed Parliament that out of 872 MiG aircraft purchased from Russia more than half were lost in crashes, killing over 200, including 171 pilots. The numbers have only risen since then.
In its 29th report on 'Aircraft Accidents in the Indian Air Force', the Public Accounts Committee had called for phasing out of the MiG-21 aircraft from the IAF's inventory.
Pointing out that 221 aircraft destroyed in flying accidents between 1991 and 2000 with a loss of 100 pilots' lives, 100 were MiG-21 fighters, the PAC had concluded that 'the IAF is saddled with a sad compromise between what the nation can afford and what ought to be discarded'.
India is investing billions of dollars in modernizing its air force, but is unable to maintain the safety of its aircrafts.