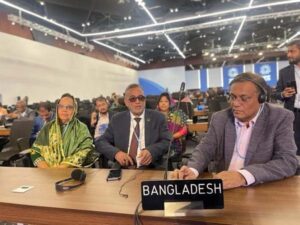 Moon Desk: Information and Broadcasting Minister Dr Hasan Mahmud today said the joining of world leaders' to the COP-27 conference ushered a new hope towards protecting the world from the adverse impact of climate change.
The minister, who is now visiting Sharm El-Sheikh in Egypt to join the COP-27 as the representative of the Prime Minister, was talking to reporters, according to a release received here.
He highlighted different issues including the commitments of developed nations to protect the world from the adverse impact of climate change and the lack of progress in various fields including inter-country technical cooperation.
Hasan said many heads of state and government of the world are joining the conference this year, which was held in Paris and Copenhagen in past. But, it did not hold few conferences in the last few years, he added.
He said it is a matter of hope that the global leaders can hear the global community, environmentalists and the victims of climate change. As a result, a new momentum is transmitted to the global responsibility to deliver a global response and this is a good sign, said Hasan, also Awami League joint general secretary.
"We return to our respective countries with a lot of hope and aspirations after each COP conference. But, according to the words of hope that were heard, didn't reflect properly. Currently, the Russia-Ukraine war is going on and now the focus has shifted to it and the economy is in a shambles."
The minister said climate change impacts and renewable energy issues have been discussed for a long time, but the one hundred crore dollar a year climate fund that was supposed to be given away remains a dream. There has not been much progress on other issues also, he added.
Hasan said, "Technology transfer was one of the main demands of us to provide technology to all countries. There is no much progress in this regard, too."
The conference will be continued till November 18 which began on November 6.