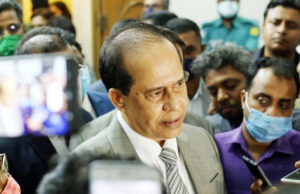 MOON  Desk: The second Zila Parishad Polls on Monday ended peacefully throughout the country as no incidence of violence was reported across the country during the polls.
The voting began at about 9:00am on Monday and continued till 2:00pm without any break under the supervision of the deputy commissioners who are acting as the returning officers, according to the Election Commission.
"We have observed the polls since its beginning… polls were held in a peaceful manner and no incident of violence was reported during the polls," said Chief Election Commissioner (CEC) Quazi Habibul Awal to the reporters at the Election Commission Bhaban here after the end of voting to zila parishad polls.
Although the election was scheduled to be held in 61 districts, excluding three hill districts, but it is being held in 57 districts as polling in Chapainawabganj and Noakhali have been postponed.
Besides, the total candidates of Bhola and Feni districts have been elected uncontested. A total of 109 candidates including 26 chairmen, 18 women members and 65 general members have been elected uncontested.
Voting is being held through Electronic Voting Machine (EVM) which has been installed at every upazilas.
Elected representatives of other local government bodies such as Union Parishads, municipalities and Upazila Parishads cast their votes in the election.
In the current district council elections, a total of 92 chairman candidates, 1,485 general members and 603 women candidates are contesting in fifty-seven districts across the country, said Election Commission (EC) sources here today. A total of 60,866 voters are expected to cast their votes in 462 centers.
Meanwhile, the EC has deployed seven members of the law enforcement agencies at each polling center — a striking force comprising the members from Police, ApBN and Battalion Ansar and another striking force including members from the Rapid Action Battalion (RAB) have been deployed at each center across the country.
A total of three platoon BGB members have been deployed. Of them, two platoons have been kept in greater nineteen districts and one platoon for other districts, the EC official said.
The EC has engaged adequate number of executive and judicial magistrates in duty in all the election districts. Besides, closed-circuit cameras (CCTVs) have also been installed in each poling centers to observe the situation.
On August 23, the EC has announced polls schedule for holding elections in sixty-one districts. The last date for nomination paper submission was fixed on September 15, nomination paper scrutiny on September 18, and candidacy withdrawal on September 25. The election symbols were distributed on September 26.