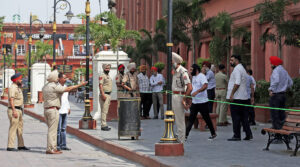 Moon Desk: A second blast in 36 hours rocked the area around the Sikh holy site of the Golden Temple in India's Amritsar city on Monday, police said. Authorities said that one person was injured.
The previous blast late on Saturday night, which police said they were still investigating, also left at least one person wounded in the city, in the Sikh-majority northern state of Punjab.
Punjab's director general of police said a terrorism angle had not been ruled out, and preliminary investigations suggested a crude device had been us­ed. "Blast occurred when a thread was pulled accidentally by a passerby," said Gaurav Yadav. "The container fell down and it went off." The Golden Temple — a gleaming edifice in a large artificial pond — is revered by Sikhs the world over.
But it has been the scene of violence in the past, most notably when Indian Special Forces stormed it in 1984 to remove Sikh militants. Devotees told AFP that officials arrived soon after the early morning blast on Monday — when hundreds of people would have been at the shrine — to collect forensic samples.
"Such happenings are creating panic," said worshipper Jasbir Singh Patti, who visits the temple daily. "It is time for the police administration to act swiftly to present the truth before the public." Several windows cracked in the blast in the same area on Saturday — a day when around 200,000 people typically visit the site.
In March, a manhunt was launched in Punjab to arrest a firebrand Sikh separatist that sparked protests and vandalism among the diaspora. It was unclear if the latest blasts were linked.
Thousands of officers were deployed in the northern state and mobile internet was cut off for days in the effort to locate Amritpal Singh, 30, who was arrested last month.
Singh rose to prominence calling for a separate Sikh homeland known as Khalistan, the struggle for which sparked deadly violence in India in the 1980s and 1990s.