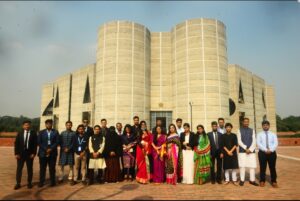 Raisa Mehzabeen: On 17th November 2022, 24 youth parliamentarians of the renowned international youth platform Youth Parliament visited the Great National Parliament to inspire the youth towards parliamentary democracy.  With the permission of the Jatiya Sangsad Secretariat, the youth from different districts of Bangladesh visited the Jatiya Sangsad Library, Session Room, Crescent Lake, South Plaza and various lobbies.  A huge collection of almost all newspapers from 1974 to present held in the library enthralls the youth of the Youth Parliament.  The first handwritten constitution of the People's Republic of Bangladesh was shown to young representatives in this one of the largest and historical libraries of the country.  Then when the youth parliament delegation entered the session room, the guide very earnestly showed the delegation around the whole parliament.  At the end of the visit, the officials of the Jatiya Sangsad Secretariat answered various questions of the youth about the Parliament.
During the visit Mr. Sarkar Tanveer Ahmed, President of Youth Parliament said, "Lewis I Kahn's extraordinary construction style has given Bangladesh Jatiya Sangsad Bhavan a special distinction from other modern buildings in the world. Our long-term hope is that one day the Youth Parliament will be organized in the session room of Bangladesh Jatiya Sangsad. Today's visit is for the young generation.  Be inspired."
Meanwhile, the Youth Parliament President handed over the book "March 7 Speech: Known Unknown Information" written by Momtajul Ferdous Joarder to be distributed to the visiting wing of the National Assembly and the library.  Photographs were taken by the authorities at the South Plaza to commemorate the visit of Youth Parliament representatives to the National Parliament.  At the end of the event, Mr. Mohammad Mohsin, the captain of the Bangladesh National Wheelchair Cricket Team, gave the crest to the youngsters.