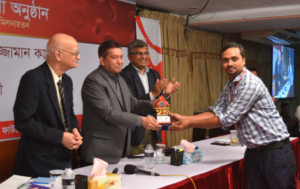 Moon Desk: Over 47,000 female blood donors of Quantum Foundation (QF) have donated blood in the last 22 years contributing to the demand of the country's nearly 1.0 million blood units. The disclosure was made during a reception conferred in honour of over
300 blood donors who got entry to golden silver and lifelong clubs of the QF for donating 25, 10 and three times respectively on Thursday.
Held at IDEB in the city, the function was attended by Women and Children Affairs Secretary Mohammad Hasanuzzaman Kallol as Chief Guest.
Advisor of QF and Consultant of Banking and Training Sukumar Chakrabarti presided over the function and Director Motivation of blood donor programme of Quantum Foundation addressed welcome speech.
The secretary said the voluntary donors play significant role in giving new life to whom they donate blood. They will remain alive within the person who carry their blood for long time.
The speakers informed the function that a total of 47,661 female donors have donated blood in Quantum lab and 376,365 females received 537,582 unit bags blood.
Besides, the Lab provided blood to 345,478 children with 327,984 units. Some 45,381 children and 14,307 females of Thalassemia received blood. Of them 2,337 children and 1,101 female Thalassemia patients have got bloods regularly.
The QF has developed a donor pool of nearly 450,000 voluntary donors since its inception and half of them donate regularly. Some 1.45 million unit bags have so far been supplied to the patients.