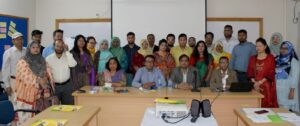 Moon Desk: A 3-day basic training has been started with the managers of Drop in Centers (DIC) to sensitize female sex workers about HIV AIDS.
This programme has been started on Saturday (February 18) at 9 a.m. at the training center of NGO Forum in Lalmatia area of the capital, organized by Dhaka Ahsania Mission Health Sector with the collaboration of Save the Children.
The Deputy Director and Program In-charge of the National AIDS/STD Program, Dr. Mohammad Mahbubur Rahman was present as the chief guest at the inauguration of this program. Selina Sultana, Senior Manager, Female Sex Worker Intervention and HIV Program, and Technical Advisor, Izazul Islam Chowdhury, Save the Children, KSM Tariq, Joint Director, Dhaka Ahsania Mission Health Sector were present as special guests.
The guests stressed on the importance of bringing the project population under all government facilities, empowering the target population by maintaining mutual communication and bringing the women sex workers who use injecting drugs under the services of this project.
Around 25 DICs and outlet managers from across the country participated in this programmed.