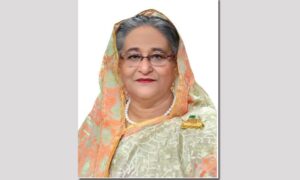 MOON Desk: Prime Minister Sheikh Hasina will inaugurate the 2.34km Mirpur-Kalshi flyover for vehicular movement at a function at Kalshi intersection adjoining Balur ground in the city at 10am tomorrow.
LGRD and Cooperatives Minister Md Tazul Islam, Dhaka north city Mayor Md Atiqul Islam, Chief of Army Staff General SM Shafiuddin Ahmed, Dhaka-16 lawmaker Md Elias Uddin Mollah, Local Government Division Secretary Muhammad Ibrahim are expected to join the inaugural ceremony, among others.
Under the Road Widening and Development from ECB Square to Mirpur and Construction of Flyover on Kalshi Circle Project, the 2335 meter long flyover has been built and a 3.70 km stretch of road from the ECB square to Kalshi has been widened.
On January 9, 2018, the project got the ECNEC's approval.
DNCC and Bangladesh Army (24 Engineer Construction Brigade) implemented the project at a cost of around Taka 1,012 crore.
According to the project details, the flyover looks like an English alphabet 'Y'. The previously four lane roads have been widened to six lanes in view to ease passenger commute.
The main four-lane flyover runs from ECB square towards Kalshi and Mirpur DOHS, while a two-lane ramp descends from Kalshi intersection to Kalshi Road.
According to Dhaka North City Corporation (DNCC) public relations office, the project also includes extension of a PC girder bridge, construction of two foot over-bridges, a public toilet, two police boxes, a 7.40 kilometer RCC drain and saucer drain, a 1755 meter RCC pipe drain, retaining wall, 3383 meter communication duct, 800000 linear meter sand compaction pile, separate cycle lane, and six bus bays.
The project is expected to ease travel among the areas of Mirpur, DOHS, Pallabi, Kalshi, Mahakhali, Banani, Uttara and Airport.