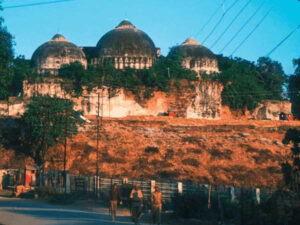 Moon Desk: Today, the 6th December, marks 30 years since extremist Hindus backed by state apparatus reduced to rubble the historic Babri Masjid in Ayodhya in the Indian state of Uttar Pradesh.
According to a report released by Kashmir Media Service, the painful scenes of Babri Masjid demolition by BJP-RSS led Hindu mob on this day in 1992 are still fresh in the minds of Muslims across the world.
Babri Masjid demolition was not a case of mob frenzy going out of control but elaborately planned by top Hindutva leaders. Through a biased verdict in November 2019, Indian Supreme Court had allowed the Hindus to construct a temple at the site of the historic Babri Masjid. Ironically, the-then Chief Justice of India, Justice Ranjan Gogoi, was later rewarded for pronouncing verdict in Babri Masjid case that was in line with a key ideological commitment of BJP. He was picked for Rajya Sabha by BJP-led Indian government after ruling in favor of Hindus in the Babri Masjid case.
The Indian judiciary gave priority to Hindutva ideology while announcing verdict in the Babri Masjid demolition case. It could not be given any other name except for travesty of justice that Indian judiciary acquitted BJP veterans like Advani involved in demolition of the historic mosque.
In India, particularly under Modi, the KMS report said, religious sites of Muslims are vandalized by Hindutva forces with impunity. RSS-backed BJP has marked thousands of mosques for demolition and to build temples in their place in India. Even Muslim names of institutions, places and highways are being rechristened to Hindu names. The situation has turned so ugly for Muslims that even animals have more rights than Muslims in India. They are tortured and killed in broad daylight on the pretext of eating beef and transporting cattle.
The fact is the RSS-inspired BJP government is planning ethnic cleansing of Muslims, which needs urgent attention by the global community as there has already been a warning of possible genocide of Muslims in India and Indian illegally occupied Jammu and Kashmir.