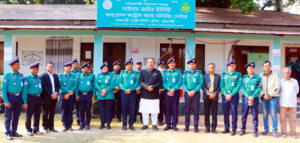 Rajshahi Bureau: Member of Bangladesh Awami League Presidium and RCC Mayor AHM Khairuzzaman Liton visited RMP's Cyber Crime Unit, Operation Control and Monitoring Center (CCTV) and Digital Forensic Lab at the under-construction headquarters of RMP at C&B intersection of the city on Tuesday at 2 pm. At this time, Rajshahi Metropolitan Police Police Commissioner Md. Abu Kalam Siddique highlighted the various activities of RMP.
Commissioner of Police praised all these initiatives of RCC Mayor for the security of the city and prevention of cyber crime.
Additional Commissioner of Police (Admin & Finance) Md Farooq Hossain, Additional Commissioner of Police (Crime & Operations) Bijay Basak, BPM, PPM (Bar), Additional Commissioner of Police (Traffic & DB) Samsun Nahar, BPM along with senior officers of RMP were also present at this time.