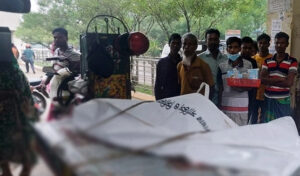 Moon Desk : Four people were killed and 13 others injured in two separate road accidents in Kushtia on Monday morning.
Three people were killed and nine others injured when a truck hit a three-wheeler in Alauddin Nagar area of Kumarkhali upazila.
The deceased were identified as Gaffar, 38, son of late Bari Dofader of Shahidharpur village in Daulatpur upazila, Sanwar alias Sanu Pramanik, 40 and Inta Sarder, 46.
In another accident, a truck hit another truck parked on Kushtia-Jhenaidah regional road at Mohishadanga area, leaving one person killed and four others injured.
Idris Ali, Officer-in-charge of Kushtia Highway Police Station, said the dead bodies were sent to Kushtia General Hospital morgue for autopsies.