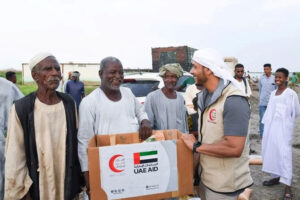 MOON Desk: The UAE charities continued distributing critical aid to those affected by the floods in Sudan, the Emirates News Agency (WAM) reported.
Teams on ground delivered food baskets and shelter that benefited 3,500 people in two villages in the White Nile state, WAM said.
People living in remote villages received food assistance through ferries.
The UAE has earlier opened an air bridge to deliver large quantities of aid to those affected by Sudan's floods, which killed over 100 people and affected around 278,500 others.