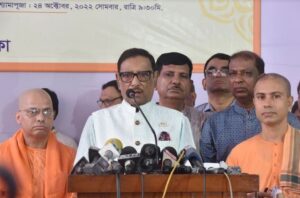 Moon Desk: Awami League (AL) General Secretary Obaidul Quader today said the ruling party is ready to face Bangladesh Nationalist Party (BNP) on the streets and in elections, noting that the AL is now better organised and united under the leadership of its president Sheikh Hasina than any time in the past.
"The BNP leaders are still daydreaming of the fall of the government and they are making ridiculous statements demanding the government's resignation," he told a press briefing at his secretariat office here.
Quader, also the road transport and bridges minister, said sitting on the banks of the Thames River, convicted fugitive BNP acting chairman Tarique Rahman is daydreaming of defeating the Awami League, a party that emerged from the streets.
Bangabandhu's daughter Prime Minister Sheikh Hasina has not learnt to be defeated and she never breaks down, he said, adding that the AL was on the streets, remains on the streets and will stay on the streets.
Reiterating that the next general elections will be held in time as per the country's Constitution, the AL general secretary said the election is supposed to be held at the end of 2023 or the beginning of 2024, while the Chief Election Commissioner has hinted it.
He said BNP's dream a movement to oust the government by capitalising on the people's suffering due to the ongoing global crisis will not bring any result.
Quader said the Sheikh Hasina government continues its all-out efforts to deal with this economic crisis. "This crisis will be overcome soon, Insha Allah, and good days will come again," he added.
From London, the fugitive convicted announced to 'Take back Bangladesh', the AL general secretary said, adding that "their take back" means returning to Pakistani ideology and inundating the country in the sea of corruption of Hawa Bhaban.
The country's people do not want to return to the misrule of the BNP-Jamaat regime, he said, adding they do not want to see looting and bloodshed in Bangladesh any more.
Responding to a statement of BNP secretary general Mirza Fakhrul Islam Alamgir that the AL government will not find a way to escape unless the next parliamentary elections is held under a caretaker government, the road transport minister said the BNP, not the AL, has the history of fleeing.
He said BNP leader Tarique fled abroad on an undertaking that he would not do politics in the future.
Asking the BNP leaders to return to the path of democracy and elections, Quader warned, "Otherwise, you will not find an escape passage".