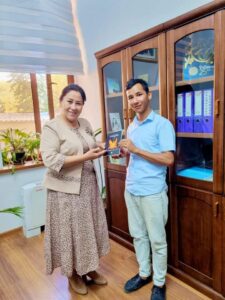 Munavvara Usmonova: It was June then. Although we only lived in Tashkent for three months, it seemed like a thousand years. After meeting our relatives and friends, we found a place in our yard. Our yard was beautiful and charming like heaven. In early spring,corn stalks with seeds planted in the ground, pomegranates, dates and fruits of the grapes grew in the care of relatives and neighbors. My youngest daughter, who has just turned three years old, crossed the threshold and ran towards the yard. "Wow, many babies, give me one of them,who has the longest hair", – she said. We all laughed at how she made the ears of corn with his waving hair look like babies. After three or four days of relaxing in the fresh air of the village, we started to return. The father who said: "Stay ready until I find the car", – returned near dinner.My little girl, who was rocking her "baby," fell asleep in the shade. We all said good-bye and went on our way. My little girl, who woke up before the crossing, started crying, "My baby is gone."At first we thought it was just a whim. And then, when we didn't console, we all got angry all along the way.  We reached home late in the evening and could not console her.  At night and in the morning, my little girl, who was crying and comforting me, started to have a fever.  Neither a "moaning" doll nor a teddy bear with beady eyes could cure her pain. Assigning them to their siblings, I went out in search of the "chubby boy".
When I was commuting to work on the 3rd tram, I noticed corn stalks growing in yards of the city.When I couldn't find it in the markets, I set off in search of that address. I found.Since it is a long way from the path leading to the gate of the yard, I came to the low wall at the foot of the yard and voted.  I walked towards the street, startled by the dog, which started barking when I heard a strange sound. Unexpectedly, the dog jumped out of the lighted part of the fortress wall and ran towards me.  Everything happened in one breath.  The owner of the house ran from my screams, a couple of passengers…
…My whole body was shaking from the pain in my leg.The woman holding me in her arms and apologizing is the owner of the house. She took yeast from his house (for some reason) and applied it to the damaged body. We sat on a stone dais near the gate. She caressed my face and started crying.
– You are scared, my daughter.  You faded.  I did not know that the dog ​​had been released from its chain.  Don't be afraid, he's not mad.  He is the son of a stubborn dog, and he will be like that.  My husband passed away, I have two adult daughters and a son.  My walls are shining.  I tied this puppy to the edge of the yard as a warning against trouble.  I would open the door if you called me aunty, my daughter.  I didn't know, sorry…
That humble woman looked like my mother.  For some reason, I put my head on his shoulder and cried.  I cried about my daughter, who fell ill, crying that she had lost her child.  I cried saying that I have a big yard in Marhamat district, my garden and my parents stayed behind, and we came to the city.  I cried saying that I love the heat of basil, I miss the smell of water sprinkled on the soil, I miss the pomegranate blossoms, and the apricots that fall to the ground when they are ripe and eat them.  We were in pain like mother and child.  I said goodbye, saying that I was looking for two pieces of corn stew, and that my child was waiting.  It was dawn when I limped home carrying a bag of dumbbells.  I said to my little girl, who was stroking the flower paper, facing the wall: "Dilsorakhan, I'm sorry for your child."  She quickly stood up and hugged his "children" in my arms.  She kissed and caressed them and began to caress them: "Are you sad that I left you, sister, did you cry?"  I did not sleep at night because I missed you.  I will not leave now.  Let's sleep together…"I couldn't hold back my tears.  The blood leaking from my leg seemed to be flowing towards my heart.  The pain was on that side too, I thought.
Translator: Nilufar Khalimova