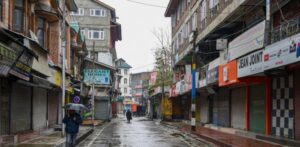 Qazi Mizan: The Forum for Human Rights in Jammu and Kashmir, an independent body jointly led by former Chief Justice of Delhi High Court A.P. Shah and former Union Home Secretary Gopal Pillai released its fourth report on human rights situation in Jammu and Kashmir, titled, 'Three Years as a Union Territory: Human Rights in J&K'.
A report by the forum said that anti-terror and sedition laws were being continuously used disproportionately against locals, political leaders and journalists. The report added, civilian casualties remain inordinately high in Jammu and Kashmir following the dilution of Article 370.
The members of the forum said in their 34-pages report, "There has been a severe clampdown on the freedom of the press through police harassment, intimidation and arbitrary detention. Journalists and opposition leaders remain under detention for extensive time periods as the Union Territory administration opposes their bail on flimsy grounds." Further, the report condemns the prevention of Kashmiri journalists from travelling abroad, calling these instances "shocking violations of their constitutional rights".
Moreover, the report recommended to halt arrests of journalists who still remain in captivity. The report criticizes the Delimitation Commission report led by retired Judge Ranjana Desai which violate the 'one-person one-vote' principle and raise concerns about gerrymandering.
The report states that multiple seats have been redrawn by the commission with new configurations of Hindu and Muslim-majority areas, to create undue electoral advantages for the ruling BJP and to the drawback of opposition parties in the region.
The report calls for the immediate restoration of statehood to Jammu and Kashmir and for assembly polls to be held according to previously demarcated constituencies.
The report also flagged the recent attacks on Kashmiri Pandits in the Valley, saying they were carried out in an environment of heightened disaffection between communities which is promoted by the film, 'The Kashmir Files'.
Growing communalization in the country also raises alarms of retaliation by militants and further jeopardizes the security of already vulnerable community of Kashmiri Pandits living in the valley.
There has been no progress in the implementation of the PM's employment package for Kashmiri Pandits in the valley. The report calls to involve local community leaders in programmes for reintegration of Kashmiri Pandits while stepping up favourable measures like construction of 6000 flats and their postings to safer places.