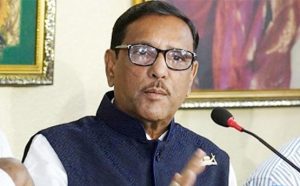 Monn Desk: Awami League had never tolerated the influence and political control of any state, the party's general secretary Obaidul Quader has said.
He further said Awami League had to pay an extreme price for this reason.
The AL general secretary made the remarks in statement on Monday.
Alleging that BNP leaders are continuing their habitual politics of telling lies and hatching multi-faceted conspiracies, Quader said, "Though they (BNP) talk about democracy but they hold the ruthless brutality of August 15 in their hearts."
He said, "Historically, BNP has nurtured autocratic behavior and politics of militancy-terror and revenge.
Responsibilities to democratic rights and values run parallel. BNP never owns democracy and its values and practice it in their political activities."
They have never performed the duties and responsibilities of a democratic political party, said Quader.
The AL general secretary said, "BNP is the main patron of terrorism and militancy in the country. Since the assassination of the Father of the Nation and his family members, BNP has created the context of all the crises that people of this country have to face on the way to achieve democracy, freedom and economic prosperity."
Due to this apolitical policy, when BNP felt their existence in danger then they engaged in anti-national conspiracies, said Quader.
Mentioning that Awami League's only source of strength is the people of this country, he said all the political activities of the party are conducted by focusing on people's aspirations and interest.