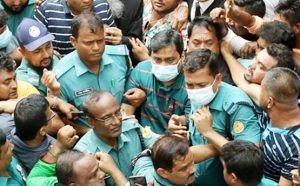 Moon Desk : A court in Dhaka on Monday granted bail to former Jubo League leader Ismail Hossain Chowdhury Samrat in a graft case filed by Anti-Corruption Commission (ACC) in 2019.
Judge Asad Md Asifuzzaman of Dhaka Special Judge Court-6 passed the order, removing all the legal bars for releasing Samrat from jail as he was already granted bail in three other cases filed against him.
The former president of Dhaka South city unit Jubo League was produced before the court from Bangabandhu Sheikh Mujib Medical University (BSMMU) Hospital.
After holding a hearing on the plea for bail filed by the defence, the court allowed it on Taka 10,000 bond. The court also set September 19 for holding a hearing on charge framing in the case.
The Anti-Corruption Commission (ACC) on November 12, 2019, filed the case against Samrat for amassing illegal wealth of Taka 2.94 crore. The anti-graft body filed charge-sheet on November 26, 2020, and on March 22, 2022, the court took the charge-sheet into cognizance.
Earlier on October 7, 2019, Rapid Action Battalion (RAB)-1 filed two cases under arms and narcotics acts against Samrat with Ramna Police Station, making former Dhaka South unit Jubo League vice-president Enamul Haque Arman co-accused in the narcotics case.
RAB on early October 6, 2019, arrested Samrat and his associate Arman from village Kunja Sreepur of Alkora union under Chauddagram upazila of Cumilla district.