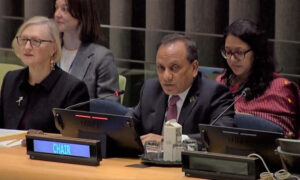 Diplomatic Correspondent: Ambassador Mohammad Abdul Muhith, permanent representative of Bangladesh to the United Nations, has been elected vice-chair of the United Nation's Peacebuilding Commission for 2023.
Bangladesh led the commission for a year as chair after being elected in 2022, according to a statement received on Friday.
It said the members of the United Nation Peacebuilding Commission elected the permanent representative of Croatia as the chair for 2023 at the United Nations Headquarters in New York on Thursday.
The statement said they also elected Germany as vice-chair of the commission along with Bangladesh.
It said Bangladesh permanent representative Abdul Muhith thanked to all member countries for extending their support and cooperation in successfully leading the commission in 2022.
During the handover ceremony of the chairmanship, the members of the commission commended Bangladesh for its extraordinary work as the chair of the commission.
Referring to Bangladesh became as an important partner of the UN, Ambassador Muhith said Bangladesh sent the highest number of peacekeepers to the UN peacekeeping mission.
He said Bangladesh has been contributing to establish global peace through the UN peacekeeping operations.
The newly elected vice-chair Muhith reiterated his country's full commitment to support the commission for its activities in future.