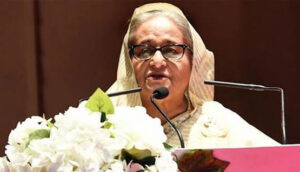 Staff Correspondent: Prime Minister Sheikh Hasina on Tuesday called Bangladesh as the most ideal place for investment in the world, seeking larger foreign and local investment for mutual benefit.
"Bangladesh is the most ideal place for investment in the world as we offered maximum investment opportunities. So, I hope overseas investment will come here and local people will also invest in their own country," she said.
The prime minister said this while inaugurating the formal operation of the Japanese Economic Zone in the Bangladesh Special Economic Zone (BSEZ) at Araihazar in Narayanganj district on the outskirts of the capital.
She joined the function virtually from her official Ganabhaban residence here.
The premier mentioned that Bangladesh could be a market of 300 crore people with 17 crore of its own, 50 crore in east, 150 crore in north and 50 crore in west due to its geographical location.
The different countries of the world can invest in Bangladesh largely to reap benefits of the vast market, she added.
She also said that her government has attached topmost priority to planned industrialisation alongside agriculture by protecting the country's environment and arable lands.
Sheikh Hasina said her government is setting up 100 economic zones across the country aimed at eliminating indiscriminate industrialisation and protecting arable lands.
The Japanese Economic Zone is being built on 1000 acres of land at Araihazar Upazila in Narayanganj district of Bangladesh in line with an agreement signed between the two countries during her Japan visit in 2014, she said.
The prime minister said, "Foreign investment is coming to the economic zones. Discussion is going on with India, China and Saudi Arabia (on setting up economic zones in Bangladesh). Some other countries also expressed interest to this end."
She assured the interested countries, which wanted to build economic zones in Bangladesh, of providing their desired places and said they can develop it as per their need.
Bangladesh is offering special opportunities for the investors, she said, adding that foreign investors can use Chattogram, Mongla and Payra seaports and Matharbari deep seaport for transportation of their produced goods.
The prime minister said geographical location of Bangladesh is the most important for investors as they can reach the markets with their products across the globe while her country can make a bridge between East and West.
She described various measures including enactment of investment friendly laws and rules and special stimulus packages and loans for the investors.
Bangladeshi youths can come forward to invest in the economic zones instead of running after the jobs and generate huge employment for others, she said.
She added that women also can invest in the economic zones as special arrangement has been made to give them industrial plots here.
The prime minister said her government has upgraded the road, rail, water and airways with building new streets and railways alongside developing the waterways through dredging to ensure easy and quick transportation of the goods produced in the economic zones.
Describing Japan as a true friend and development partner of Bangladesh, she said Japan is currently helping the country in building metro rail, third terminal of Shahjalal international airport, Dhaka and Matharbari deep seaport.
She also recalled the Japanese cooperation in building the Rupsha Bridge and conducting feasibility study of the Padma Bridge and Bangabandhu Bridge over the Jamuna River.
"I am extending my sincere thanks to Japan for staying beside Bangladesh always," she added.
The prime minister also recalled with due respect the contribution of late Japanese Prime Minister Shinzo Abe to the overall development of Bangladesh describing him a "true friend" and greeted the present Japanese Prime Minister also for supporting her country.
She said Father of the Nation Bangabandhu Sheikh Mujibur Rahman wanted to transform Bangladesh into an industrialised country from an agriculture-based nation following the footprints of Japan, she said.
The premier said Bangabandhu had established Tejgaon industrial area and BSCIC (Bangladesh Small and Cottage Industries Corporation) when he was the minister during the Pakistan period.
After coming to power in 1996, she said they have first set up economic processing zone in Syedpur as there was no industry in the northern part of Bangladesh and later built the economic zones at different parts of the country.
She said she later thought to establish special economic zones across the country aimed at stopping indiscriminate industrialisation and protecting the arable lands.
"We have to save agriculture as Bangladesh is an agriculture based country. We have to ensure food security for people, but we have to go for industrialisation alongside the agriculture. So, I started to establish special economic zones across the country in a planned way," she said.
Ambassador of Japan to Bangladesh, ITO Naoki and President and Chief Executive Officer of the Sumitomo Corporation Group, Masayuki Hyodo, spoke at function.
Executive Chairman of Bangladesh Economic Zones Authority (BEZA) Shaikh Yusuf Harun gave the address of welcome.
A video documentary on activities of the Bangladesh Economic Zones was screened on the occasion.