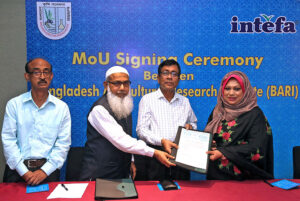 Moon Desk: A Memorandum of Understanding (MoU) signing ceremony between Bangladesh Agricultural Research Institute (BARI) and agricultural products producer intefa was held on Saturday (September 10, 2022) at the Le Meridien, Dhaka. In presence of BARI Director General Dr. Debasish Sarker, BARI Director (Training and Communication Wing) Dr. Ferdousi Islam and President of intefa Mr. Kazi M. A. Dawood Ibrahim signed the MoU on behalf of their respective organization.
BARI's Director (Planning & Evaluation) Dr. Apurba Kanti Chowdhury, Chief Scientific Officer of the Training and Communication Wing Dr. Ashraf Uddin Ahmed, Chief Scientific Officer and Head of the Soil Science Division Dr. Habib Mohammad Naser along with other senior scientists of Training and Communication Wing and Soil Science Division of BARI and officers of the intefa were present on the occasion. Vice- President of intefa Mr. Abdul Jalil Pramanik gave the welcome speech.
Under this MoU, BARI and intefa will work together to ensure food and nutrition security in the country. Besides, with the help of various technologies developed by BARI, intefa will work to deliver modern and quality environment-friendly agricultural products such as pesticides, fungicides, herbicides, fertilizers etc. to the farmers.