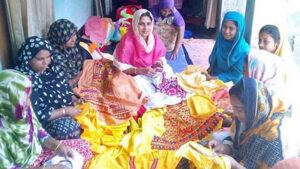 Rajshahi Bureau: Nasima Khatun, a resident of Bhadra area in the city, got training from the Department of Youth Development, and started block and boutique business on a small-scale in 2010.
Around 1,000 women coming from poor and underprivileged families now got employment in Nasima's Block and Boutique House.
Nasima, mother of three daughters, is now a successful entrepreneur in Rajshahi city.
She said many underprivileged and distressed women have become self-reliant through working in boutique houses in the metropolis contributing a lot to the society.
Rupali Khatun, 35, a housewife of Nalkhola village under Paba Upazila in Rajshahi district, has become a successful woman entrepreneur after eradicating her deplorable condition.
Within a gap of nine years, she is now the owner of Toha Boutique where four women are working permanently and around 300 others are getting benefits either directly or indirectly from the enterprise.
Simultaneously, she also has a fish farm on a 30-bigha of water body and a poultry farm with around 1,500 chicks creating jobs of around 50 people.
"I got a huge response from the people that inspired me to do the work vigorously," she said, adding that her monthly income is now around Taka one lakh on an average.
However, the success did not come overnight, as she had to face various types of constraints and hurdles to attain it.
Talking here on Thursday, Rupali said she had to face an awful situation for around two years when her husband incurred a huge financial loss in his fertilizer and insecticide dealership business in 2011.
Initially, she took a 14-day institutional training on sewing and tailoring from the department of youth development in 2013. After taking loan from the department and some of her neighbours, Rupali started her sewing and tailoring business the same year.
Within the next two years, she was given the national youth award as a successful woman entrepreneur in 2017 as recognition of her remarkable achievement in the field of women empowerment. This year, she was also given an acknowledgement of being a successful young woman.
Not only Nasima Khatun and Rupali Khatun, many other women entrepreneurs are contributing a lot to intensifying the local economy.
The Department of Youth Development (DYD) imparted training to more than 5,915 unemployed women on various trades like modern tailoring, block-boutique, fisheries, livestock and electronics in the last financial year to improve their living and livelihood conditions.
Golam Mahbub, Deputy Director of DYD, said women empowerment is one of the Prime Minister's Ten Special Initiatives.
More than 1.43 lakh beneficiaries were imparted life-skill training and were brought under various financial supports worth Taka 60.86 crore to infuse dynamism into the women empowerment process in the division in the last two fiscal years.
Professor Iliash Hossain of the Department of Economics in Rajshahi University termed the existing entrepreneurs development training and microcredit as a laudable initiative for making the rural women self-reliant with boosting their social dignity as well as level of confidence.