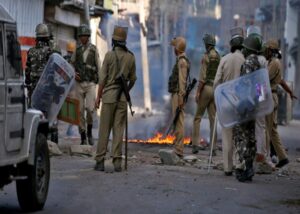 Moon Desk: The brutal detention of Kashmiri victims under India's unlawful draconian laws indicate the kind of torture, trauma, and immense dangers such detainees face.
Do you know how it feels to be blinded for life thrown on a pair of crushed dreams and perpetual darkness? No, you don't know what it's like to be seeing hundreds of people each day, coming with their eyeballs out, heavily beaten, unbearably tortured, severely degraded, and ultimately bleeding to death.
The occupied valley is the only such unfortunate region in the world where nearly one million Indian army is constantly testing the patience of the unarmed Kashmiris. Military cantonment has been set up outside every Kashmiri's house, and the lives of Kashmiris are under constant siege. They have to go through check post to go from one place to another. Thousands of Kashmiris have so far been injured by bullets, shrapnel, and tear-gas shelling on peaceful protesters by the Indian forces, while dozens of young school boys and girls lost their eyesight completely due to the pellet injuries.
In IOJK, the game of brutality of the Indian security forces is still going on and so far more than 95,728 innocent Kashmiris, including 7,155 in custody since January 1989 to date, have sacrificed their lives for the freedom struggle. These killings have rendered 22,924 women widowed and 107,811 children orphaned, and more than 8,000 Kashmiris have been subjected to custodial disappearance in the period. The honor and dignity of the Kashmiri women are also not safe from the hands of brutal Indian forces. More than 11,231 Muslim women have been disgraced or molested. Regarding the recent status of imprisonments, approximately 37,469 Kashmiri civilians have been arrested by the Indian army under draconian laws.
Every day, a new story of grief, a new voice of pain, a new encounter of torture, trauma, and brutal murder marks the continuation of human rights abuses in the IOJK. The Indian security forces deployed in Kashmir have a unique license to kill countless Kashmiris under the black "draconian laws "such as PSA, UAPA, and AFSPA, there is no retribution from them for this crime. Although these laws have been marked as 'unlawful' by Amnesty International, still these laws continue to be used by authorities for preventive detentions in Jammu & Kashmir
It is this clear that the Indian authorities and the security forces deployed in IOJK, justify the cruel, inhumane detention activities under draconian laws by promoting vague and ambiguous notions of "security and sovereignty of the state."Nevertheless, these false narratives by the Indian authorities continue to manipulate and misguide the world, their nature and status remain " unlawful" and "contrary" to the general principles of International law.