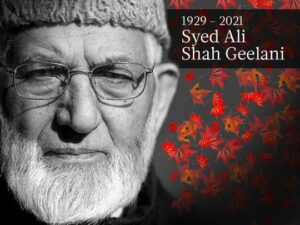 Moon Desk: All Parties Hurriyat Conference vice chairman Ghulam Ahmed Gulzar has said that the Kashmiris will keep treading the path of the iconic leader, Syed Ali Gilani, till freedom from Indian yoke is achieved as New Delhi will never be able to erase the Kashmiris' love for the veteran leader.
Ghulam Ahmed Gulzar in a statement issued in Srinagar said, Syed Ali Gilani was not just a personality but an institution whose legacy will continue to guide and inspire Kashmiris present and coming generations. He was an Iconic Leader, torchbearer, pioneer and a truly legendary figure who sacrificed everything for the nation, he added.
"Kashmiris will follow the APHC programme in letter and spirit and march towards his grave in Hyderpora area of Srinagar on 1st September to pay homage to the beloved leader on his second martyrdom anniversary.
Gulzar said that Syed Ali Gilani commanded widespread respect among the Kashmiris for his unwavering stance on Kashmir dispute and India will never be able to erase the Kashmiris' love for Syed Ali Gilani. While paying glowing tributes to the beloved leader, Gulzar said that his passion and spirit of resistance was invincible, and he will remain a symbol of resistance against Indian deceitful occupation.
He said that Gilani will be remembered as a mentor who through his sermons, books and untiring efforts educated Kashmiris about their rights and curse of Indian slavery. The efforts of Gilani bore fruit as today every Kashmiris is Gilani and whole Kashmir is reverberated with pro freedom and pro-Pakistan slogans under Indian bayonets and in presence of over one million trigger happy troops. Indian agencies tried to eliminate him many times, he was imprisoned for over a decade, he along with his family was persecuted but he faced the wrath of Indian state terrorism bravely and remained firm on his principle to stand like a solid rock and lead the freedom movement in all difficulties. circumstances.
He further stated that Gilani was epitome of Kashmiris' struggle, he was the name of mission, and the Kashmiris will achieve their goal of freedom from India by sticking to his mission.
Syed Ali Gilani was a truly legendary figure in the Kashmiris' struggle for freedom from Indian yoke who remained an ardent supporter of Pakistan throughout his life. He was a staunch advocate of Kashmir's merger with Pakistan all his life he remained steadfast in his devotion to free Kashmir from Indian yoke & make it part of Pakistan till his last breath.
APHC vice chairman said that the martyrdom anniversary of Gilani is the day of renewal of a pledge to not let the candle of resistance lit by Gilani extinguish despite Indian oppression. Gulam Ahmed Gulzar said that Kashmiri as well as freedom-loving people across the world salute Syed Ali Gilani's courageous struggle.
He said that Syed Ali Gilani will remain alive in the hearts & minds of Kashmiris struggling for freedom and every Kashmiri has become Gilani for India. He vowed that Kashmiris would keep treading the path of Syed Ali Gilani till attaining freedom from Indian yoke and India will never be able to erase the Kashmiris' love for Syed Ali Gilani.