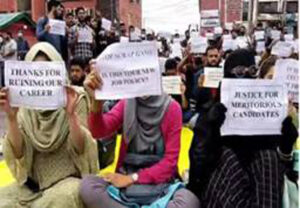 Muhammad Ullah: A blacklisted agency engaged by India's illegally installed Jammu and Kashmir administration to conduct recruitment examinations for government jobs had led to protests in Indian Illegally Occupied Jammu and Kashmir (IIOJK). According to various media outlets, mass protests were held in Occupied Jammu and Kashmir this week against Jammu and Kashmir Services Selection Board (JKSSB). Job aspirants protested in front of Press Enclave against the hiring of black listed agency APTECH Ltd for conduct of various exams.
The protesters pointed out that APTECH Ltd had been involved in numerous scams in other parts of the country including in Rajasthan, Leh, Ambala, and others. "Many national papers have also highlighted these scams, nothing significant is being done to allay the apprehensions of the job aspirants," they said. The Delhi High Court has even imposed a penalty of one million rupees on APTECH for alleged malpractices in recruitments.
The protesters demanded that the Lieutenant Governor administration should rise to the occasion and take necessary measures for the larger benefit of the youth of Jammu and Kashmir. In fact, in 2020, the Mumbai-based company was given a contract for conducting recruitment exams for 643 posts under the irrigation department.
The private firm conducted exams for 397 posts in the first phase with large-scale anomalies in February 2020. Following that, Gauhati High Court stayed the declaration of results of the examinations to select section assistants for the Assam irrigation department. The Jammu Kashmir administration cancelled four recruitment exams for police sub-inspectors in the home department, Junior Legal assistant, financial accounts assistant in the finance department, and junior engineers in the Jal Shakti department, following gross irregularities.
The court questioning the awarding of the contract to APTECH asked the JK admin, "Why it mattered to them to award a contract to conduct an exam by a company that has in the past encouraged unethical behaviour in public exams and consequently initiate the corresponding actions against those found guilty." Aspirants alleged that the LG management and JKSSB were not serious about the future of the youth. "When the applicants sought help from the High Court, which ordered a judicial inquiry into the selection process of a blacklisted company, the next day, JKSSB challenged that ruling and allowed a blacklisted company to be known for its incompetence and an unsafe examination process."
The incident drew widespread criticism and anger in Kashmir. Several political parties also expressed their anguish over the selection of a blacklisted company to conduct the exams in Jammu Kashmir. Some even alleged that there was a "major scam" at work. State Spokesperson of Jammu and Kashmir National Conference Imran Nabi Dar tweeted "JKSSB is the enfant terrible of the incumbent J&K administration. Salman Nizami, who is the spokesperson of Ghulam Nabi Azad's DPAP said, given the alarming rise in unemployment in Jammu Kashmir, the government must show sincerity in its efforts towards the youth.