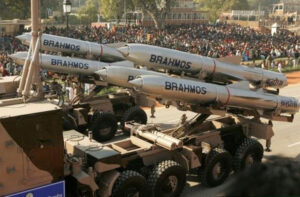 Indian army was test-firing missiles when they went off course due to 'technical errors'
Md Jubair: Three missiles were misfired by the Indian Army during an exercise in the Jaisalmer region of Rajasthan, causing alarm in the surrounding areas, Indian media reported on Saturday.The firing exercise was being held at the Pokhran range during which three surface-to-air missiles misfired. The three missiles hit fields in different villages around the region, causing loud explosions.
However, Indian media claimed that no loss of life or property was reported.
Indian defence spokesperson Lt Col Amitabh Sharma confirmed that the missiles were misfired during a military exercise. He maintained that a probe was launched into the matter and further action would be taken accordingly.
The report detailed that the debris of two of the misfired missiles was recovered but authorities were yet to find the third one. Indian police and army personnel are currently searching for the third missile.The missiles, with a reported range between 10 to 25 kilometres, were being test fired by the Indian Army but deviated from their path due to 'technical errors'.
Nachana Deputy Superintendent of Police (DSP) Kailash Vishnoi confirmed the incident to Indian media and stated a missile was found in a field at Ajasar village, while the second missile was found in another field. The missiles created large craters upon impact.Last year, the government in New Delhi sacked three Indian Air Force (IAF) officers for violating standard operating procedures (SOPs) that led to the firing of a missile into Pakistan.
In an official statement on Tuesday, India formally concluded the inquiry into the "accidental firing" of the Brahmos missile and found three officials guilty of not following the laid down SoPs.
"A Brahmos missile was accidentally fired on 9 March 2022. A court of inquiry (COI), set up to establish the fact of the case, including fixing responsibility for the incident, found that deviation from the standard operating procedures by three officers led to the accidental firing of the missile," read the Indian defence ministry statement."These three officers have primarily been held responsible for the incident. Their services have been terminated by the central government with immediate effect. Termination orders have been served upon the officers on 23 August 2022," the statement added.
India had confirmed accidentally firing a missile into Pakistan on March 9, something Islamabad said could have triggered a major disaster and potential war between the two nuclear-armed neighbours.