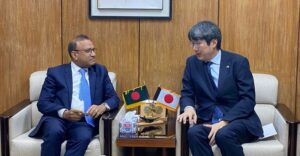 Moon Desk: Information and Broadcasting Minister and Awami League (AL) Joint General Secretary Dr Hasan Mahmud yesterday exchanged views with French envoy to Bangladesh Marie Masdupuy at his office.
After the meeting, the minister said, "Bangabandhu-1 satellite was supplied by a French company. She wanted to know how it is working. I told her that all the television channels are now broadcasting through the Bangabandhu Satellite and it is performing very well. Our government has taken a plan to launch a second satellite. Discussion was held over this issue also. A proposal has been given on behalf of France for the satellite."
He said the French nation is advanced in art and culture while the Bangalee nation is also rich in culture. Discussions were held on this issue, he added.
Besides, Hasan said French Development Cooperation is providing financial assistance to Bangladesh and they have provided 1.2 billion dollars in the last one decade. Seventy percent of that aid must be climate related, he added.
He said Bangladesh is an innocent victim of climate change.
Hasan said discussions were also held over fake and false news in social platforms and the challenges of preventing rumours on the platform.
Meanwhile, Hasan said BNP doesn't do politics for the people but for only two persons- Begum Khaleda Zia and Tarique Rahman.
"They (BNP) do politics only for the duo whose main aim is to capture power in any way," he told reporters while replying to a query in front of his office at Secretariat in the capital.
The minister said Awami League is a party active on the street and the party always has political programmes and will have those in future also. "We haven't leased out the street to anyone. BNP's main intention is to create instability in the country through terrorism and arson attacks," he said.
Hasan said BNP held road march at union level a few days ago and carried out attacks on the peace rally of Awami League. Even, terrorists and arson terrorists were seen at their rally which was published in mass media, he added.
On the other hand, he said, Awami League believes in the power of people and the party came from the street. "We remain on the street. And no one will be allowed to carry out violence," he continued.
Replying to another query over a comment of BNP about price hike of essentials, the minister said, "What is the intention of BNP to tell that the price will increase during the holy Ramadan? The month (Ramadan) hasn't come yet. Their intention is to encourage dishonest businessmen to increase the prices and BNP will be with them."