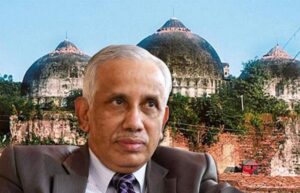 Md Nazrul: President Bhavan announced the names of the new governors of seven Indian states on Sunday, which has started a debate. All five of the new governors are BJP leaders, sparking controversy. One of the remaining two is an ex-serviceman. The other is retired Supreme Court Justice S. Abdul Nazir. Who was one of the judges in Ayodhya's historic Babri Masjid case. As a result, the opposition also noticed the precedent. According to them, distribution of loyalty rewards has started.
Nazeer retired from the post of Supreme Court judge on January 4, 2023. He is the new Governor of Andhra Pradesh as announced by President Draupadi Murmu. As a result, Vishwa Bhushan Harichandan is being removed from Andhra as the Governor of Chhattisgarh. This is about work. However, after the announcement of Draupadi Murmu, those cases are coming up in practice, in which the former judge gave a joint verdict. What are they?
One of course is the Ram Mandir-Babri Masjid case. After the controversial verdict in that case, a huge new temple is being built in place of the Babri Masjid at the alleged Ram Janmabhoomi, which will be inaugurated just before the next Lok Sabha polls. In addition, former judge Nazeer gave judgment in the triple talaq case, questioning the rationale of cancellation of notes. Coincidentally, the judgments in all the cases went in favor of the BJP and the Modi government's policies and ideals at the Centre. The question arises as the person is declared as the Governor.
Incidentally, BJP leader Ramesh Vyash is the Governor of Maharashtra according to Draupadi Murmu's announcement. BJP leader CP Radhakrishnan is the Governor of Jharkhand. BJP leader Lakshnanprasad Acharya is going to be the Governor of Sikkim. Shiv Pratap Shukla and Gulabchand Kataria will be the Governors of Himachal Pradesh and Assam respectively. Former army chief KT Parnek is the new Governor of Arunachal Pradesh.