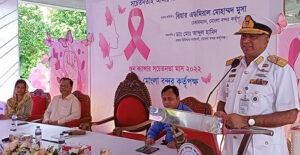 Cancer-affected families understand the suffering of affected families: MPA Chairman
Mongla Correspondent: Chairman of Mongla Port Authority, Rear Admiral Mohammad Musa, said that the family affected by cancer is the only one who understands the suffering of the affected family. This disease is increasing in our country due to inertia and fear of not being able to speak out.
On the occasion of International Breast Cancer Day, on the morning of October 10, he said this in the chief guest's speech at the free breast screening ceremony of the female officers-employees and female pets (above 25 years, wives, daughters, mothers) of Mongla Port Hospital at Mongla Port Hospital.
He also said that diagnosis and treatment of this disease will continue at Mongla port from now on. Bandar Medical also directed the related parties to raise awareness about breast cancer and provide all necessary assistance to the identified patients.
Director (Administration) Md. Shahinur Alam was the special guest on the occasion. Dr. Abdul Hamid, chief medical officer of Mongla Port, presided. Women officers-employees of the port and service-seekers of official employees (women paushya) were present.
A three-day Breast Screening Program for Breast Cancer Awareness at Bandar Hospital, Mongla Port will be held on October 10 and till October 11 at Mongla Bandar Hospital, Mongla and on October 12 at Khulna Medical Center, Mongla Bandar. Two of the three phases of breast screening will be conducted by Dr. Sonia Taleb Mukta, Lady Medical Officer, Mongla Port and Dr. Nisat Shabnam, Medical Officer. At the end of the program, the chief guest inaugurated 02 booths for breast scanning.